Among TypeMetal's many noteworthy features, I'm especially proud of one of the most visible — its stunningly beautiful app and snippet set icons, which were designed by the extraordinarily talented artists at Ramotion.
For TypeMetal's app icon, I wanted to clearly convey its identity as an HTML editor, and more broadly as a writing tool, while also making clear that TypeMetal was designed for the Mac from the ground up. I'm delighted by the way the end result achieves that with elegant simplicity, while looking right at home on OS X.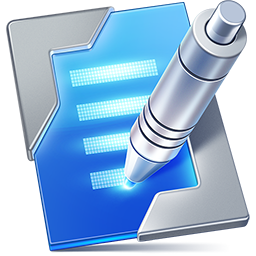 Snippet sets are a key feature of TypeMetal, and I wanted them to get first-class treatment too. The icon for this file type needed to convey a sense of fun as well as utility. I wanted to give the feeling of a kit of parts from which to build things — something one would find a bit of delight in downloading, opening, exploring, and using to make neat stuff. The box-of-brackets metaphor that Ramotion came up with does so beautifully.
You can find Ramotion on Dribbble and on Twitter. Thanks, guys, for the truly amazing work you've done for TypeMetal!