We're delighted to announce the release of TypeMetal 2 — a brand new version of our revolutionary OS X HTML editor that brings a first-rate WordPress experience to your Mac!
With TypeMetal, there's no separate "preview": You write and edit directly in your posts as they'll appear to readers — fully styled using your site's theme, or in an uncluttered, focus-conducive "Clear View" mode. You also get a complete, synced copy of your posts and pages that you can easily browse, search, and edit on your Mac, even in the absence of an Internet connection. Think of TypeMetal as Mail.app for your WordPress sites — a self-contained experience that provides easy, pushbutton publishing.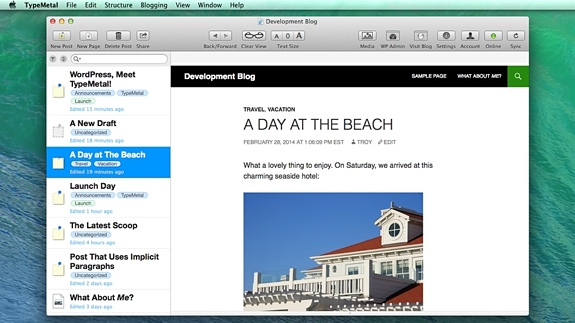 In continuous development since the release of TypeMetal 1.0, and building on technology we've had in R&D since the project's beginnings, this new version of TypeMetal provides a whole new way for you to own your WordPress content, while paving the way for integration with other publishing destinations and content management systems in the future. We've been using development builds of TypeMetal 2 behind the scenes for a while now, to write and publish news articles such as this one, and we think you'll enjoy the experience it provides as much as we do. (Like its predecessor, TypeMetal 2 also remains, and will continue to be, a powerful and versatile editor for general HTML files.)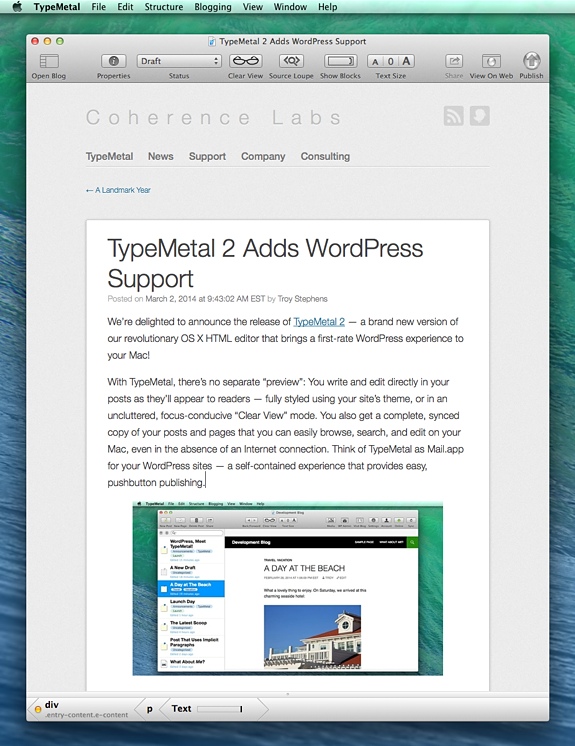 An easy-to-install-and-use, versatile, highly customizable, field-tested, open-source publishing platform that powers millions of websites, WordPress is rightly regarded as a nimble and powerful tool by people who publish everything from personal blogs to company websites. We're delighted to be able to contribute something to the growing WordPress ecosystem, by providing a seamlessly integrated Mac-native writing experience for WordPress authors to enjoy.
To celebrate its launch, TypeMetal 2 is on sale for a limited time. Get it today on the Mac App Store! And in gratitude to our pioneering first users, TypeMetal 2 is also a free upgrade for everyone who purchased TypeMetal 1. — Thank you for your indispensable support!
You can learn all about TypeMetal 2 by browsing its newly updated online User Guide. — See in particular the brand new section on "Using TypeMetal with WordPress".
If you're new to TypeMetal, you're likely to find past articles on our News feed helpful — in particular, those that have discussed TypeMetal's approach to semantic HTML, suggested a different way of thinking about HTML authoring, and illustrated the use of snippet sets. (See also: "TypeMetal's Approach" and "Rise of the Plain Text Editors".)
We've been working very hard on this new version and hope you'll enjoy it! As always, please reach out to us on the public TypeMetal Support Forum, tweet us @CoherenceLabs, or send us an email if you run into any trouble at all. We want you to enjoy using TypeMetal, and we're here to help!