HTML. WordPress. Easy.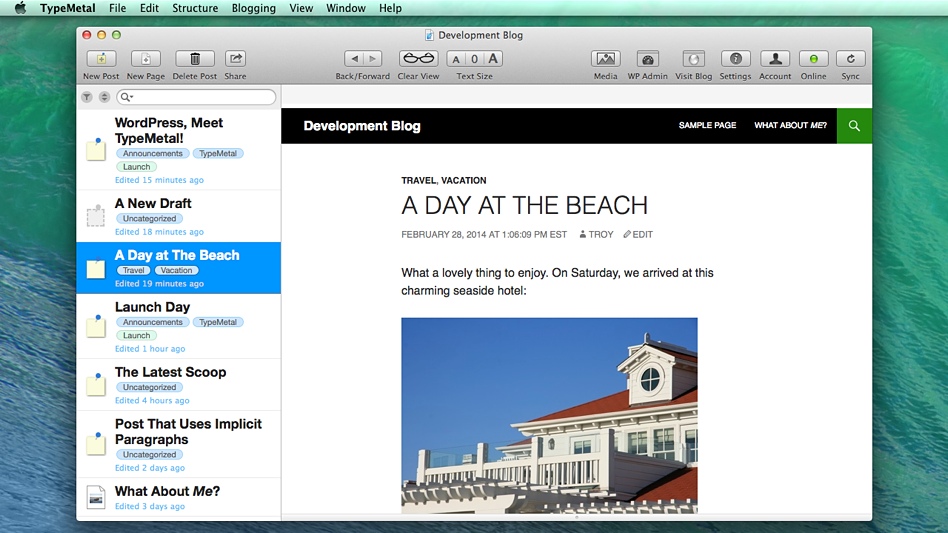 Browse the complete documentation online!

WordPress, the easy way. TypeMetal 2 adds a fully integrated, Mac-native experience for writing for your WordPress sites. TypeMetal's revolutionary editing engine lets you draft your posts as readers will see them — fully styled using your site's theme. Sync automatically. Browse, search, draft, edit, reference, and copy excerpts from your posts, even while offline. Own your content like never before.
Focus. Toggle TypeMetal's WordPress editor into "Clear View" mode anytime, to switch to a clutter-free editing theme that helps you concentrate on your writing. No sidebars, no navigation widgets, no theme images. Just you and your post. TypeMetal also gives you control over font size, so you can make your editing windows easier on your eyes.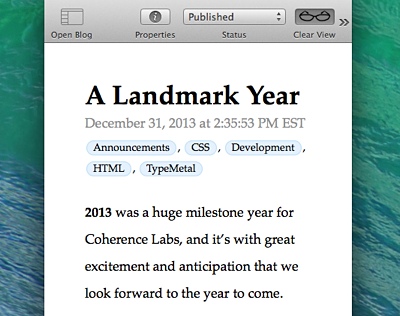 HTML, too! Like its forerunner, TypeMetal 2 is also a full-featured, general HTML file editor. Open and edit any standard HTML 5, HTML 4, or XHTML file using TypeMetal's unique visual UI.
Sometimes, even an HTML expert just wants to write. TypeMetal makes writing concise, professional-grade markup fast and efficient, with easily mastered keystrokes that keep your fingertips on the keyboard and your mind on your ideas, not on the minutiae of markup or the details of the app you're using. TypeMetal's unobtrusive UI helps you focus on what matters most: your content.
Write fluidly. With TypeMetal, you work with your fully styled content, while retaining complete control over the HTML you produce. There's no separate "preview" to refresh, and nothing extra added to your markup. Just you and your content, one-on-one.
Write with polish. Specify your HTML formatting preferences, then forget about tabs, line breaks, and angle brackets. TypeMetal formats your HTML files' content with beautiful consistency, freeing you to focus on your writing.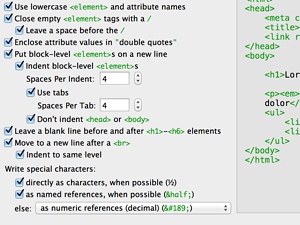 Write semantically. Give your markup meaning. Define your own styling vocabulary, and structure your writing to be flexibly, beautifully, and consistently styled using CSS. TypeMetal's "snippet sets" help you codify your styling vocabulary and consistently apply your chosen styling. Leverage HTML's full potential with greater ease than ever before.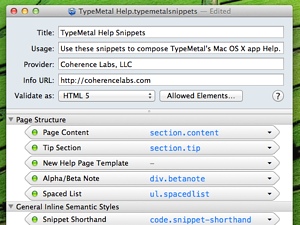 Cultivate your own unique style. Then make it all the rage. TypeMetal's "snippet sets" help you formalize your HTML styling conventions — from the "class" and "id" names that trigger your CSS magic, to arbitrary common HTML constructs. What's more, you can share your snippet sets with others, in a simple, documented file format, to help your team maintain common conventions. Collaborative website development just got easier.

Write in style. Style your HTML files consistently — using your own CSS files, or one of TypeMetal's bundled style sheets. Switch style sheets and watch your pages update automatically.
Collect and clean. The Web is full of overwrought HTML. TypeMetal's smart cleanup helps you distill it to the essentials — automatically, as you paste or drag-and-drop. TypeMetal's "Source Loupe" and "Outline Mode" help you inspect and further refine the results, yielding markup that exactly fits your working conventions.
Reference with ease. TypeMetal remembers URLs you've recently copied to the pasteboard. When you create a link, they're just a few quick keystrokes away.
Grasp the unseen. TypeMetal's "Block Mode" illuminates your document's block-level structure, and enables you to select and manipulate otherwise invisible elements.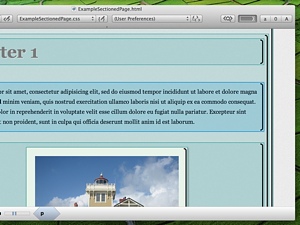 Validate at a glance. TypeMetal validates every HTML file you open, and repairs serious problems as it loads a page. Green light? You're good to go! Yellow light? TypeMetal leads you to problem locations so you can fix each issue, then it re-validates as you edit. It also guides your use of HTML elements and snippets as you write, to avoid creating invalid markup in the first place.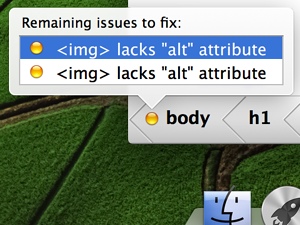 System Requirements
TypeMetal runs on 64-bit Intel Macs. It requires macOS 10.8 "Mountain Lion", 10.9 "Mavericks", 10.10 "Yosemite", 10.11 "El Capitan", or 10.12 "Sierra".
Praise for TypeMetal 1.x
★★★★★

"a very complete app and really a must have under OS X to write documents in HTML really easily and fast!"

— Customer Review, Mac App Store (France)

★★★★½ "An excellent addition to the toolkit of any web designer or writer for online publications.
Forget Markdown — this app lets you write and export HTML with ease."

— MacFormat (U.K.), December 2013

★★★★

"TypeMetal is objectively superior to Dreamweaver's Design view in every imaginable way"

— Customer Review, Mac App Store (U.S.)